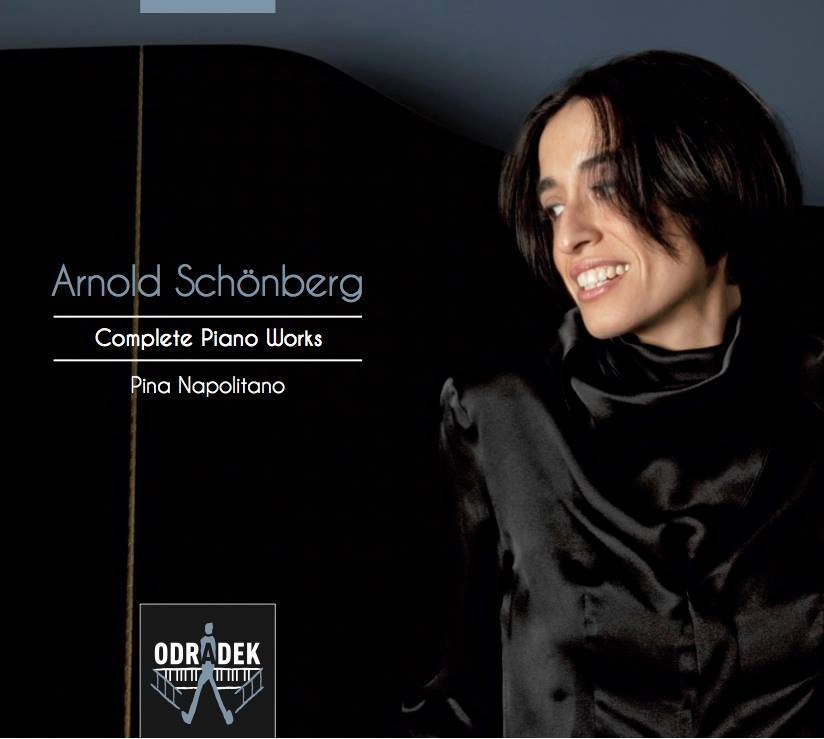 5 STARS – BBC MUSIC MAGAZINE / Runner-Up: Norman Lebrecht's Sinfini Music Album of the Year 2012 / Oreste Bossini's 3rd place Disc of the Year (Premio della Critica), Musica e Dischi
Arnold Schönberg Complete Piano Works
Odradek Records [ODRCD300] Booklet in English, Italian, and German.
Program notes by Hugh Collins Rice.
PREVIEWS
DIGITAL BOOKLET
REVIEWS
"Exploring what she terms as Schoenberg's 'exasperated Romanticism' through his solo piano works, Napolitano produces playing of rare penetration, understanding, grace and elegance."
5 STARS – BBC Music Magazine Calum MacDonald Christmas Edition 2012
A one-CD album of Arnold Schoenberg's solo piano works has not come my way for years, perhaps since Pollini three decades ago. Pina Napolitano plays the tricky pieces with light fingers and innate wit, bringing out a welter of contemporary parallels – Mahler in op 11/2, Busoni in op 23 – amid a panoply of delicate beauty."
CD of the Week, La Scena Musicale Norman Lebrecht May 21 2012
"…Pina Napolitano's debut recording… certainly is outstanding… Her knowledge of the music is manifest in every bar, and she conveys its real quality as music – rather than as an object of academic study – with nice judgment and a fine, delicate technique. Tempi are frequently more measured than in many competitors, for instance Uchida in Opp 11 and 19, or Pollini in general. Where some might miss the latter's masculine drive and momentum in Op 25, Napolitano has a tensile strength to her playing that is distinctly hers. The Suite is, without doubt, Schoenberg's piano masterpiece – however much the Op 19 pieces may hog the limelight – yet Napolitano convinces that the Op 33 diptych is its logical extension and refinement."
International Piano Magazine Guy Rickards September 2012
"[Napolitano] approaches each of the suite's movements with clarity, attentiveness to all of the notation (rather than just the pitch classes), and an overall sense of rhetoric that tries to covey each movement as a journey from a well-defined "here" to an equally well-defined "there." She then leaves the rest to the listener's capacity for sensemaking; and that little voice inside me that remembers all those narrow-minded exercises from my student days seems to be telling me that Schoenberg himself would probably have approved of her approach."
The Examiner: "An interdisciplinary pianist approaches Schoenberg's complete piano works." Stephen Smoliar February 23, 2013
"On more imaginative lines, I was hugely grateful to receive the… complete Arnold Schoenberg piano works on just one CD… The set is on a new label, Odradek, that both looks and sounds good enough to eat. The pianist is Pina Napolitano: you will hear more of her."
Sinfini Music: Album of the Year Norman Lebrecht
"It is a beautiful disc, an interpretation that is both intelligent and sensitive, of great contrapuntal clarity and an extraordinary variety of touch."
Dino Villatico, music critic of L'espresso January 18, 2013
"Pina Napolitano is note-perfect from first to last… She plays with delicacy and expression; in her hands the music sounds eminently approachable even when at its most iconoclastic… Heard as a whole in chronological order they make a fascinating experience, especially in performances as good as this… The pianist in a booklet note says that she has tried to communicate the "expressive and romantic force" of the music, and she has certainly succeeded in this."
Music Web International Paul Corfield Godfrey February 13, 2013
"This seems to be a very nice recording of Schoenberg's complete piano works. Op. 11 has an appealing mysteriousness, and it tickles me pink that the Langsam from Op. 19 sounds like 'Jingle Bells' at the beginning. Napolitano is an excellent musician with a love for these works that shows itself in the warmth of her tone and the intelligent care in her phrasing. The sound is fine."
American Record Guide May/June 2013
"A CD that has brought her comparisons that are almost embarrassing (read Maurizio Pollini)…"
Giornale di Brescia Enrico Raggi April 21, 2013
Picked as #3 Disc of the Year (Premio della Critica)
Musica e Dischi Oreste Bossini December 2012
Pina Napolitano's in-depth exploration of Schoenberg's works for solo piano… shows that this music requires at the same time a thorough analysis and a clear expressive intent. It is not a paradox, as Pina herself explains: interpreting these pieces, besides the millimetric accuracy when executing each note in their subsequent polyphonic structures, one must seek to convey also the expressive dramatic character… "Philology and romanticism", so accurately and timely, define Pina Napolitano's approach to Schoenberg's music. Those who tell us that Central and Mediterranean Europeans cannot understand each other, should listen to the Viennese master proposed by this Italian pianist, a perfect synthesis of dissection (microcellular rather than cellular) and expressive sensitivity (almost heartbreaking, disturbing); a Schoenberg that in her hands is not a merely an "historically necessary" transition, but one of the most significant contributions to the history of contemporary music. And anyone who does not believe it, anyone who thinks that the music of the Viennese master is cold, distant and unfathomable, should listen to this interpretation. Certainly you will change your mind. Without a doubt: Schoenberg is not dead."
**** EXCELENTE – Ritmo Inés Ruiz Artola March 2014
Pina Napolitano "keeps the balance between overarching lines and attention to detail… [and] contributes invaluably to the reception of this music", "a real exception within the recording industry". Specifically praised is her "uncanny articulation", "expressive and warm touch", "almost infinite ability to differentiate the piano", creating "intimate, almost other-worldly, spheres of sound", as is on the other hand her ability to "adhere strictly to the original text", "to articulate clearly and to keep a strict tempo ", her "high degree of clarity, because she doesn't distort rhythmical patterns by means of tempo rubato", as well as keeping the "lightness and liveliness of baroque dances". She "masterfully accomplishes the feat of capturing every detail, while at the same time never losing sight of the big picture." "Thanks to her effort to realize Schönberg's musical text in all its facets, to shape each detail of each piece and to bring tonal sensibility to music that is often performed indifferently by other performers, Napolitano's recording of Schönberg is recommended for everybody who is interested in and enthusiastic about the piano works of the composer."
klassik.com 
Elisa Ringendahl

24 June 2015
"For the praiseworthy US non-profit label, Odradek Records, which has created a catalog dedicated to the modernist classics and some contemporaries, the young and gifted pianist Pina Napolitano has documented her take on Schoenberg – basing herself on a meticulous reading, focused especially on the articulation signs, with a dark shimmering sound with an extremely dense legato, taking as her guiding principle Schoenberg's request: 'Always sing with all your soul and create a legato as in a cantilena.' In doing this, she takes her time to allow the sound to become wholly saturated with expression, sometimes even becoming too pregnant with meaning."
Österreichische Musikzeitschrift Walter Weidringer April 2013
"Napolitano excels at highlighting the debts he owed to the past. The opus 11 and 19 suites have a suitably improvisatory, probing quality. Listen with open ears and you'll encounter marvellous things… The Intermezzo at the heart of Op 25 Suite is mesmeric, its heady romanticism both irresistible and unsettling. It's as if you're listening to Brahms while nursing a colossal hangover… Napolitano's playing is consistently brilliant, emphasising the sheer rigour of Schoenberg's music whilst unafraid to accentuate its sensuality. Good notes and presentation add to this disc's charms."
Arts Desk Graham Rickson August 3, 2013
Ultimo concerto di 'Pour le Piano': L'Accademia 'Mezzogiorno Musicale' è cultura Uno straordinario recital ha chiuso la rassegna 'Pour le Piano' svoltasi domenica 4 maggio alle 18 nel Salone degli Specchi. Pina Napolitano, pianista in carriera sia concertistica sia discografica che si sta ulteriormente perfezionando nell'Accademia Mezzogiorno Musicale di Taranto nella classe di Bruno Mezzena. Questa giovane artista di grande caratura si è prodotta in un succulento programma dedicato alla Seconda Scuola di Vienna. Dopo la presentazione del Presidente dell'Accademia Nancy Barnaba e la chiara ed esaustiva introduzione all'ascolto del Direttore Franco Mezzena, la pianista ha iniziato la sua performance con i tre Klavierstücke op. 11 di Arnold Schoenberg, appartenenti al periodo atonale del grande compositore Viennese, eseguendoli con grande espressività e centrando perfettamente il carattere profondamente malinconico e quasi sinistro che traspare in tutta l'opera raggiungendo il culmine espressivo nel secondo pezzo. L'esecuzione delle difficili Variationen op. 27 di Anton von Webern è stata impeccabile sia sotto il profilo interpretative che formale. Suono bellissimo e cristallino, perfezione tecnica, chiarezza di intenti ed uso del pedale eccellente hanno reso facile all'ascolto uno dei brani più complessi del repertorio pianistico, che spesso viene bistrattato da interpretazioni di stampo effettistico e da lettura scorretta. Un brano geniale che come ha sottolineato il M° Mezzena, racchiude in se diversi secoli di musica, un diamante perfetto insomma. I cinque Klavierstücke op. 23, prima opera veramente dodecafonica di Schoenberg, molto difiicili sia per l'esecutore, sia per l'ascoltatore sono stati eseguiti da Pina Napolitano con grande lucidità e pulizia di intenti. Il carattere, totalmente diverso dall'op. 11, è emerso grazie ad un'interpretazione più asciutta e con una gamma infinità di sonorità, che ha fatto percepire le intenzioni dell'autore fin nei minimi dettagli. A chiusura del recital, rigorosamente eseguito a memoria, la splendida Sonata op. 1 di Alban Berg, il più conservatore dei tre grandi Viennesi, ma non per questo meno interessante. Offerta in un'esecuzione piena di pathos, trascinante, pur nel più profondo rispetto della forma e del testo. Una sonata spesso volgarizzata da interpretazioni di stampo rapsodico che ne rovinano la struttura monolitica e il fascino che da questo ne deriva. Ottima scelta dell'Accademia Mezzogiorno Musicale che ha portato finalmente nella nostra città un programma che é sempre più difficile ascoltare, spesso per la paura di non avere pubblico da parte degli organizzatori. Pubblico numeroso di musicisti, pittori e semplici appassionati che ha ascoltato con grande attenzione e nel silenzio più assoluto Pina Napolitano, tributandole calorosissimi e meritati applausi. Un fuori programma brahmsiano, ottimamente eseguito, ha chiuso definitivamente la serata.
Taranto Oggi C.L. May 7 2014
"Napolitano makes the most of the lyrical aspect in the first piece of Klavierstücke Op. 23 but she is equally effective in the more fiery and explosive moments… I am struck by the meticulous detail which Napolitano gives her realisation of this and, indeed, all the movements. Every performance direction marked by Schoenberg is carefully observed and she has obviously spent a long time in preparation. There are a myriad different and subtle levels of staccato and articulation, dynamics and tempo changes… I like the warmer sound of the Odradek recording and Napolitano gives the music more forward propulsion. In piece 4, Napolitano gives an exciting rendition and her explosive climaxes are convincingly approached, whilst the concluding Waltz dances along effectively. The Suite Op. 25… opening Präludium feels improvisatory though it is meticulously organised and Napolitano brings it to a fiery and energetic conclusion… The Intermezzo is the emotional centre of the work, slow, expressive and intense. Napolitano certainly gets to the heart of this music. The Menuett and Trio attempts to be more capricious, but maybe its complexity is too much for its own good. It is superbly played by Napolitano who is, as always, meticulous in following the composer's directions. The concluding Gigue is a virtuosic tour de force of virtuosity and our pianist is well able to do justice to this movement's great performance difficulties. She concludes her disc with fine and exhilarating accounts of Opp. 33a and 33b. After having listened to most of Schoenberg's music from time to time throughout my life, I have certainly come to admire it greatly… [and] Pina Napolitano's recording on Odradek may be a good place to start. The pieces are superbly played and the disc is well-recorded. To some extent, Schoenberg remained a romantic composer in spite of his route towards increasing atonality and serialism. In her programme note, Pina Napolitano states that she hopes that she succeeds in conveying the expressive and romantic force of Schoenberg's music. I think we can say that she has achieved her goal."
Music Web International Geoffrey Molyneux 1 August 2014
"Exquisitely controlled…"
Clavier Companion May/June 2013