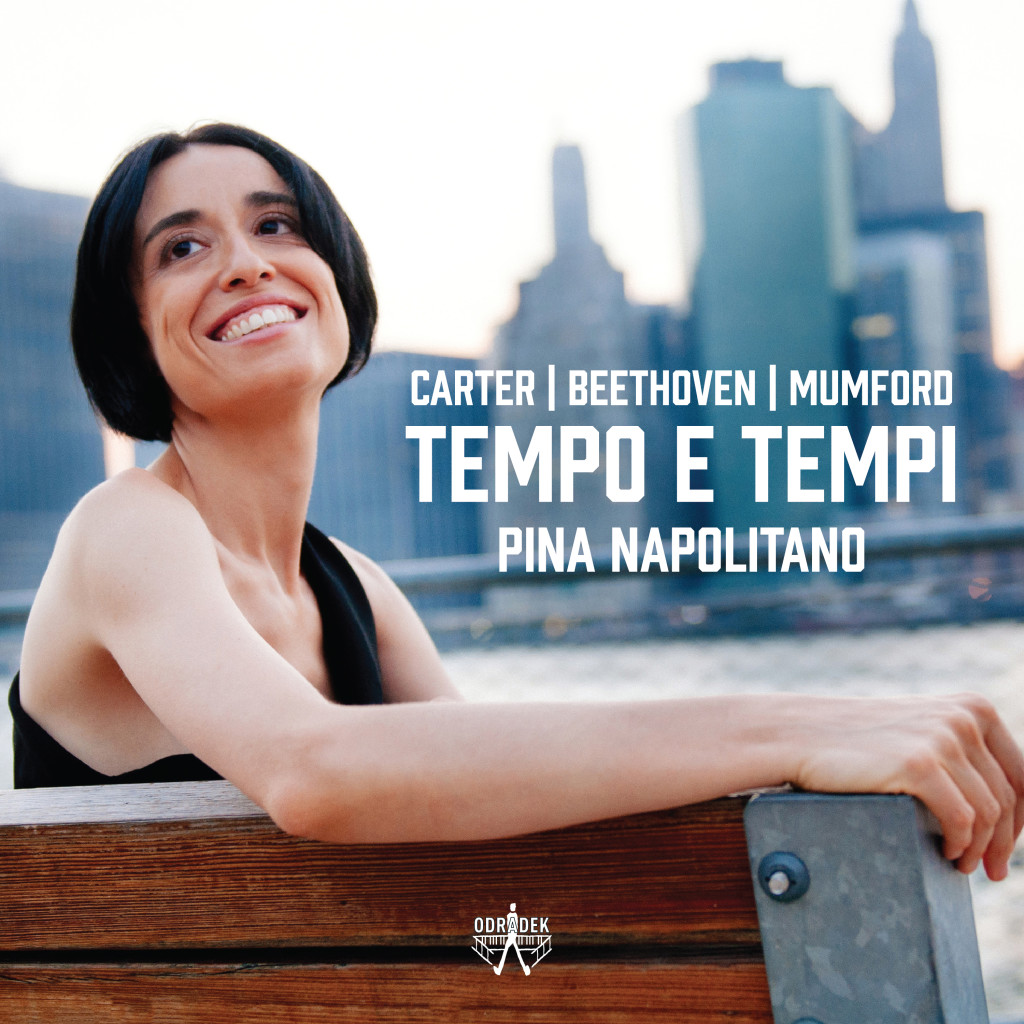 Following the acclaim that has greeted each of her Odradek releases, Italian pianist Pina Napolitano brings her exceptional intellect and musicality to the works of Elliott Carter and, in his 250th anniversary year, Beethoven. Pina Napolitano is celebrated for her ability to find intricate connections between composers of different eras, as demonstrated in her previous release, Brahms the Progressive, in which she found the relationships between Brahms and the composers of the Second Viennese School. In Tempo e Tempi, Pina Napolitano traces patterns of connection between Carter and Beethoven, composers whose music exhibits both power and playfulness, combining taut structures with the freedom of fantasia.
Tempo e Tempi (Time and Times) takes its name from a poem by Eugenio Montale set to music by Carter in a song cycle of 1998-99. The poem encapsulates two central aspects of this album: the relationships between different superimposed musical times, independent but proportionally interrelated, so important to Carter's music, and the relationship between historical times, which makes possible the 'meeting' between these two composers from different epochs.
Carter's Night Fantasies was composed between 1978 and 1980 to a commission from four of America's leading pianists: Paul Jacobs, Gilbert Kalish, Ursula Oppens and Charles Rosen. In his preface to the score, Carter speaks of capturing 'a poetic moodiness', similar to that found in Schumann's works, describing the opening of the work as a 'nocturnal evocation'. Yet underpinning this poetic conception is a contrapuntal foundation combined with Carter's developing exploration of the compositional possibilities of pulse and tempo. This is music that is at once mathematically precise and deeply evocative.
Beethoven's Sonata in A-flat, Op. 110 (1820) shares with Night Fantasies a profoundly structural and expressive use of counterpoint, a forensic investigation into its own musical materials of pitch and rhythm, and an interesting and ambivalent relationship with the lyrical potential of its thematic material. Like Carter, Beethoven also combines the rigours of a strong structural background with elements of fantasy.
Carter's Two Thoughts about the Piano comprises two separate pieces: Intermittences (2005), written for Peter Serkin and Caténaires (2006), for Pierre-Laurent Aimard. They are examples of the many shorter works Carter produced in his later years and display a freshness and zest which belie a composer in his late 90s.
Beethoven's final Piano Sonata, Op. 111 (1821-2) is a further exploration of control and fantasy. The first movement shares with Night Fantasies an instability of mood, stemming from harmonic ambiguity, counterpoint and occasional unexpected tempo changes. The second movement, Arietta, is a theme and variations whose initial variations are very regular but as the music progresses gains greater structural freedom. It is a game of metrical relationships not dissimilar to those in the music of Carter.
The internalised world of the closing pages of Op. 111 is continued in the final work on the album by the American composer and former Carter pupil Jeffrey Mumford (b.1955), whose two Elliott Carter tributes were written for Carter's 75th and 100th birthday celebrations respectively.
REVIEWS
"A provocatively brave album"
BBC Music Magazine 5 STARS PERFORMANCE | 5 STARS RECORDING
"… Napolitano shines … "
Wiener Zeitung
"… brilliantly executed … Vividly recorded … vigorous yet precisely pointed…"
The Sunday Times "Best Contemporary Classical Album of 2020"
"Plus qu'intéressant, un disque passionnant."
Musique Classique & Co
"Touch, phrasing, dynamics are not so much instruments of an expressive intention – also! – but above all the picklock to force open the musical architecture and penetrate into the composer's workshop, where the intellectual roots of song are finally recognized."
Classic Voice Disco del Mese, 5 STARS
"Napolitano's performance of the Carter Night Fantasies boasts unflagging confidence and simply exudes authority… one never doubts the greatness of the piece, or of the performance… This is mature Beethoven playing that, Furtwängler-like, keeps the large-scale always in view…"
Fanfare
"…un disco denso ed entusiasmante da ascoltare…"
OperaClick
"In Tempo e Tempi, one finds intelligence, elegance in playing and a subtle understanding of the scores – Pina Napolitano… considers this so-called intellectual music to be emotionally charged and very expressive. Cinque stelle!"
Vieillecarne.com
"She plays the highly complex, often enigmatic "Night Fantasies" mercilessly well, however, with an unmistakable feeling for rhythms and harmonic finesse, which makes listening to this disparate CD an adventure in American modernism."
PianoNews
"Napolitano's sensitive and sonorous performance confirms her rapidly growing reputation as a courageous interpreter of modernism."
FonoForum
"A singular artist… It is particularly enjoyable to be cleverly jostled by the artist's approach, which succeeds in meeting her challenge with relative ease. Her free piano soars in Beethoven and the music of Carter and Mumford reinvents itself under her fingers."
Classique c'est cool
"Pina Napolitano… proves her expressive and emotional qualities… not free of judiciously measured brio and passion. The master from Bonn is fulfilled. An excellent illustration of the relationship between "different musical times", which allows different composers and different eras to be juxtaposed. A convincing approach… Cleverly arranged programme: not to be missed."
L'organiste
"completely successful, especially as Pina Napolitano has a mastery of her instrument which allows everything."
Musicologie.org