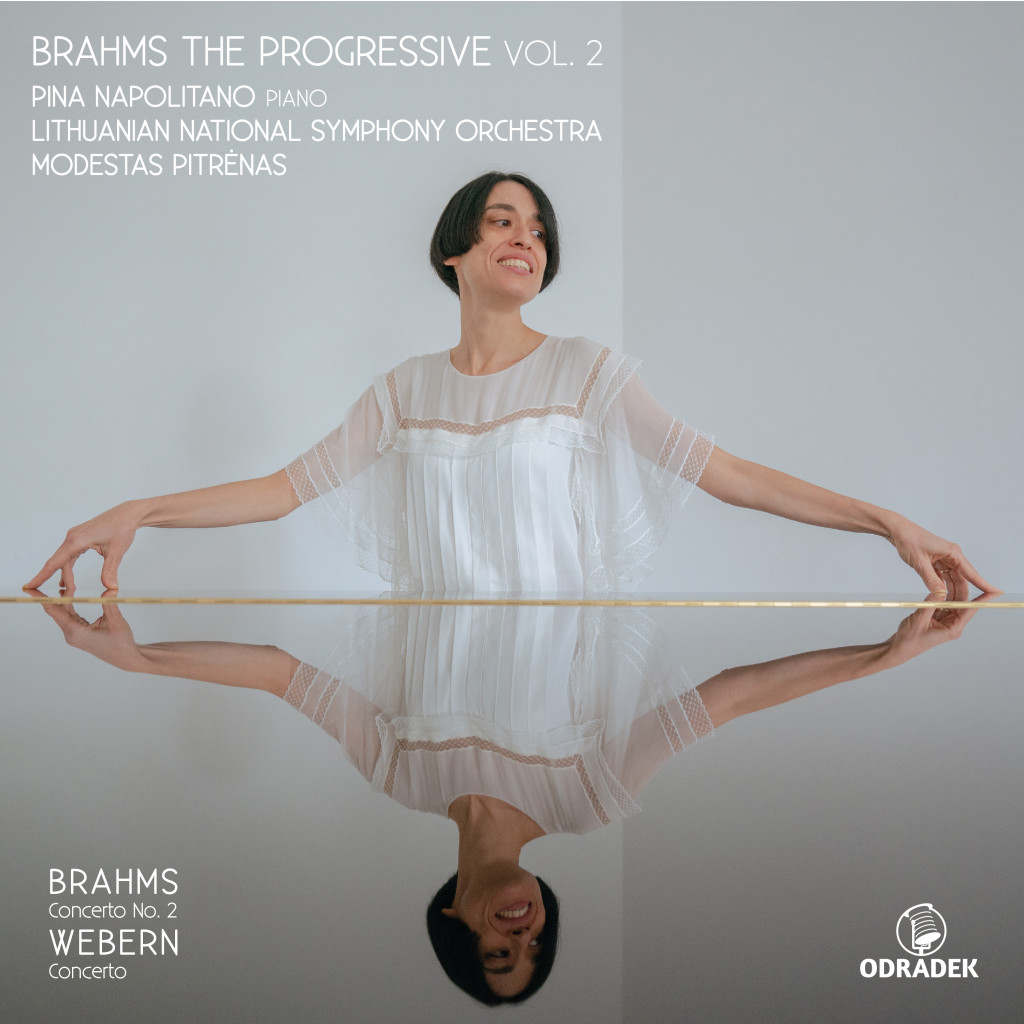 an almost poetic dramaturgy… an immense amount of emotion… glows with poetic elegance… Pizzicato
For the exceptional Italian pianist Pina Napolitano, whose recent Odradek album Tempo e Tempi was selected as The Sunday Times 2020 'Best Contemporary Classical Album', there is no better way of looking at art and history than through the lens of inverted time, from the present to the past. This is what Schoenberg invites us to do in his essay, Brahms the Progressive, in which Brahms, often considered a musical "conservative", becomes instead the father of modernism. This provides the inspiration behind this album, the sequel to Brahms the Progressive Volume 1: traversing time in two directions, looking at Brahms from the perspective of the modern Viennese, and looking at the Second Viennese School from the perspective of Brahmsian romanticism.
For Pina Napolitano there are romantic echoes in the works of the Second Viennese School; an enormous expressive force distilled and compressed, all the way up to Webern's rarefied language where even the silences are charged with music and significance. And on the other hand, she has always perceived Brahms's music as a magical prism, in which an entire musical past (encompassing Bach, Beethoven, Chopin, Schumann…) merges together, before breaking off into rivulets that will give birth to 20th-century music.
Whereas Brahms the Progressive Volume 1 focussed on solo piano repertoire, Volume 2 expands into the realm of the concerto. Pina Napolitano is joined by the Lithuanian National Symphony Orchestra and conductor Modestas Pitrėnas for the sparkling, kaleidoscopic Concerto, Op. 24 by Webern and the expansive, delectable Piano Concerto No. 2 by Brahms. Both works, as Pina Napolitano puts it in her artist statement in the album booklet, possess "the same deep structures and musical logic. They address the same problems of musical construction: the perfectly economic use of classical forms, the absolute concision … the presentation of musical material in crystal-like formations…"
Listening to these works side by side illuminates both in new ways, creating two-way context as these masters seemingly reach out to one another across time, Brahms anticipating Webern and Webern, via his teacher Schoenberg, acknowledging Brahms, the progressive.
REVIEWS
"an almost poetic dramaturgy… an immense amount of emotion… glows with poetic elegance…"
Pizzicato 4 STARS
"Pitrėnas brings as much clarity to Webern's ambiguities as he brings to the overall architecture of Brahms' concerto."
THE REHEARSAL STUDIO
"The very personal and almost analytical approach to Brahms' masterpiece is singular… the Webern Concerto played with obvious mastery."
Classique c'est coul
"…Napolitano… shines as a member of Webern's nonet as well as commanding proceedings in Brahms' huge solo part… fine, poetic playing…"
International Piano
"superb in its clarity and color… one has the impression of rediscovering certain aspects of the score. Hats off to her!"
Musique Classique & Co
"this disc was a real and unexpected pleasure."
BBC Music Magazine
"…she plays both in the same spirit, combining romanticism with intellectual rigour, showing that the two sides can be complementary."
PlanetHugill
"There is the eclectic and brilliant pianism of Pina Napolitano, her intense interpretation of a Brahms rich in colours and moods enhanced by a superfine phrasing… the orchestral dynamics controlled by Pitrenas enhance the wonderful Brahmsian melody and the thematic interplay with the piano, resulting in one of the most lyrical interpretations we have ever heard. Brahms the Progressive vol. 2 is a disc that makes us want to hold Napolitano's hand and let her lead us wherever she wants to take us on the twelve-tone path. And we eagerly await vol. 3."
OperaClick
"There's no sense of struggle… Napolitano's fingerwork operates at its graceful, supple best… her dynamic range and burnished sonority truly blossom…"
Gramophone