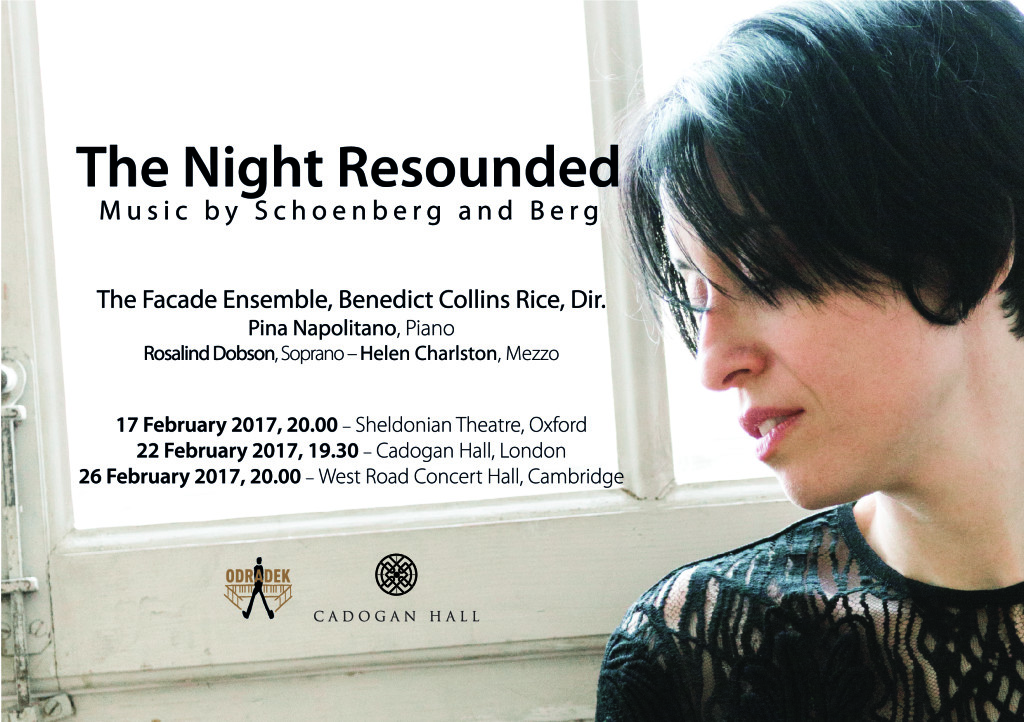 The Night Resounded
Music by Schoenberg and Berg
Facade Ensemble – Benedict Collins Rice, dir.
Pina Napolitano, piano – Rosalind Dobson, soprano – Helen Charlston, mezzo
Following acclaimed recordings of Schoenberg's complete piano works and most recently of his piano concerto on Odradek Records, Pina Napolitano performs a newly commissioned chamber reduction of the concerto for fourteen instruments. Having premiered the reduction in Vienna and following performances in Italy, Pina comes to Britain to collaborate with the exciting and innovative Facade Ensemble for the first time.
Their programme highlights Schoenberg's lifelong relationship with arrangements. Alongside the concerto reduction, The Facade Ensemble will perform Schoenberg's chamber arrangement of his Song of the Wood Dove, from Gurre-Lieder; Berg's 7 Early Songs, and Schoenberg's Chamber Symphony –  a work which went on to be arranged not only by him but also by Berg and Webern!
It will be the UK premiere of this arrangement, which she commissioned from Hugh Collins Rice, British composer and musicologist and Oxford professor. His adaptation uses the same particular orchestration as the Schoenberg's Kammersymphonie Op 9, thus drawing out the chamber/dance qualities of the piece and connecting it to Schoenberg's earlier expressionistic sound world, with which it shares many similarities despite the different compositional technique.
Pina Napolitano's exceptional interpretations of the music of Schoenberg have been praised in BBC Music Magazine for their  "rare penetration, understanding, grace and elegance", and her recording of the piano concerto was released last fall on Odradek on the album ELEGY, with Liepaja Symphony Orchestra and Atvars Lakstigala conducting.
Specialising in chamber music of the 20th century, The Facade Ensemble was founded in 2011 by its conductor and artistic director – Benedict Collins Rice. Drawing its members at the time from the finest singers and instrumentalists at the University of Cambridge, the group has developed as a dynamic collective of young professionals with a passion for bringing new music and exciting programmes to a wide audience. From Maxwell Davies to
Miles Davis
, concerts provide engaging programming – often involving dramatic elements and the juxtaposition of musics old and new.
As a singer and an instrumentalist from a young age, Benedict is at home on the concert platform, the theatre pit and the choir stalls. He has performed throughout Europe and America (from The Royal Albert Hall to Carnegie Hall);  recorded for several record labels and the BFI, and broadcast live on Radio 3. He read music at Pembroke College, Cambridge, holding two conducting scholarships and working with all the university's top ensembles. It was whilst at university that he founded The Façade Ensemble – a group specialising in 20th century chamber music which has since developed into a dynamic collective of young professionals with a passion for bringing new music and exciting programmes to a wide audience. He conducts the Cambridge Graduate Orchestra, is a Lecturer at Morley College and a Lay Clerk at Ely Cathedral.