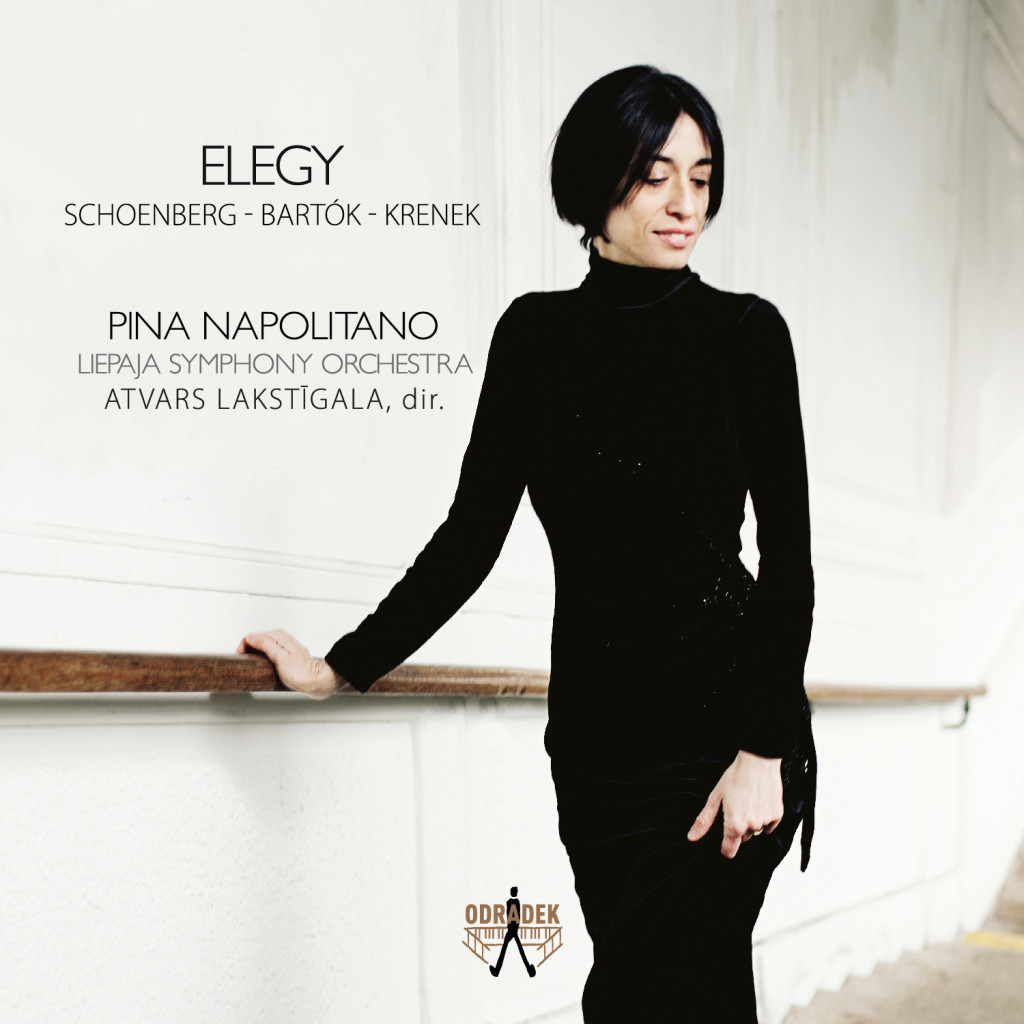 Having received widespread acclaim for her disc of Schoenberg's complete solo piano works, Pina Napolitano now brings her unique combination of fierce intellect and emotional insight to Schoenberg's Piano Concerto, in her second disc for Odradek, entitled ELEGY, with the Liepāja Symphony Orchestra conducted by Atvars Lakstīgala. Programmed alongside Bartók's Third Piano Concerto, Pina finds a common thread uniting the two concerti in their shared sense of nostalgia and in this nostalgia's redemption through dance. With characteristic perceptiveness, she explores their blend of the wistful and the joyous.
Reinforcing the album's elegiac character, the Liepaja Symphony Orchestra performs Schoenberg's Accompaniment to a Film-Scene, harkening "danger, fear, catastrophe", followed by Krenek's Symphonic Elegy. Three composers exiled by war, expressing sorrow for the world they left behind, tempered by their new experiences of America. It is a CD that explores pathos and loss, whilst managing to find joy amid the tears.
Schoenberg's Piano Concerto uses his 12-tone method, yet there are many precedents referenced in the work, including Mozart, Beethoven, Liszt, and Brahms, as well as the expressionistic voice of his own past, from the Vienna he left behind. The Film Music belongs to this expressionistic period and foreshadows the turmoil his land would see within a decade.
Schoenberg's close contemporary Webern is poignantly commemorated in Krenek's Symphonic Elegy. Webern was accidentally shot by an American soldier in 1945, and the Elegy unfolds as one continuous lamentation, at times Mahlerian in its emotional expressivity.
Bartók's Third Piano Concerto was written during a time of turmoil for the composer: his career was languishing and his death was imminent. In the Third Concerto, we find his rigorous writing softened with lyricism, particularly in the central Andante religioso, which alludes to Beethoven's 'holy thanksgiving' from his Op.132. The dances which culminate in the final movement reference multiple styles and seem to summarize the history of music and the story of Bartók's life, up until the final ascendant bars, which were completed by a student.
REVIEWS
"Napolitano certainly finds a skein of geniality that I have not noticed before in an illuminating account of the Schoenberg, with great clarity in her playing. This is an account no less impressive in its way than Uchida's or Brendel's… The accompaniments from the Liepaja Symphony Orchestra in Latvia are beautifully phrased and pianist, conductor and orchestra audibly have a fine rapport… As always, Odradek's production values are first class."
MUSICAL OPINION
"Pina Napolitano allows [the listener to be able to feel utterly at home in the work] with what seems like little effort… The frequent fluency of Napolitano's playing, the excellent contribution from Latvia's Liepāja Symphony Orchestra under Atvars Lakstīgala and the superb sound make a telling impression. On the evidence of what we hear, pianist and orchestra are at one in the way they view the score: note, for example the delicacy of Napolitano's playing at the start of the finale and the way the Liepāja woodwinds respond to her."
Gramophone
"…exceptionally lucid, aided by transparent orchestral playing…with an unusually touching central "Adagio religioso", and the work's conclusion less overtly optimistic… Fascinating stuff – and, like Schoenberg's concerto, proof that dodecaphonic music can be both melodic and moving."
Arts Desk
"…an inner tension, which is held through from the first to the last second… Technically brilliant. A successful CD production, which puts the strengths of Pina Napolitano in the foreground."
Ihr Opernratgeber
"plenty of fine detail that allows an exploration of Schoenberg's fascinatingly colourful orchestration… the recording is full of depth and expressively balanced timbres."
Music Web International
"One could say that the sound clarity is matched here by the clarity of the work's reproduction… Here we have a vivid reading, singing through each instrumental gesture and Pina Napolitano giving a performance as musical as it is crystalline. It's been three times now that I have listened to this CD which "speaks" to the listener…"
Musique Classique & Co
"great naturalness and sensitivity… absolute idiomatic intimacy… great dexterity and an exemplary balance between technical solidity and the emotional, personal approach that Pina Napolitano conveys through her interpretation… A record that is worth it!"
XpressingMusic – Portal do Conhecimento Musical
"her playing, at times fluid and at times restrained, even a very romantic playing, a little as if we were dealing with scores of the nineteenth century reshaped into modern works, within which the percussive dimension plays a crucial role. And this choice… seems coherent."
Crescendo Magazine (Belgium)
"Pina Napolitano, an artist with solid knowledge (Slavistics, musical analysis), is known for having recorded [Schoenberg's] complete works for piano solo… An elegantly phrased piano, with cadences which really breathe, is highlighted by an exemplary recording quality that invites the audience into the hall."
Anaclase
"exceptional album… in sumptuous, melodic solos and eloquent thematic expanse… dramatic and heartrending passages… Ms. Napolitano's piano… grabs the ear and imagination. Pina Napolitano, who also recorded Schoenberg's Piano works, has made this concert completely her own. She evokes the various moods with a very mature wisdom pliable. Then it becomes clear how true the joie de vivre of the finale is."
Roberta Zlokower
Pina Napolitano… has made this concert completely her own. She evokes the various moods with a very mature wisdom pliable. Then it becomes clear how true the joie de vivre of the finale is… certainly recommended."
Musicalifeiten.nl
"I never heard these pieces played like this before, but this disc can be heard more than just one time."
RONDO
"Pina Napolitano approaches this repertoire with a vision that uniquely combines intellectuality and emotion."
El Compositor Habla
"It would be fair to say that the entire album is framed by some of Napolitano's most affectionate approaches to her instrument…"
The Rehearsal Studio