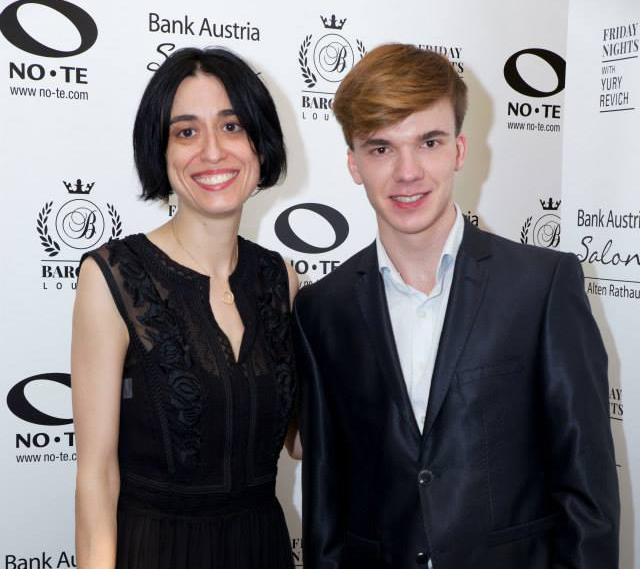 Friday Nights with Yury Revich
Pina Napoletano/ Yury Revich/ Viktor Bori/ Yuko Ichikawa
Altes Rathaus, Vienna
Wipplingerstrasse 8, 1010 Vienna
June 12, 2015 – 21,30
Klassik:
Pina Napolitano – Klavier
Yury Revich – Violine
Webern – Variationen, Op. 27
Schoenberg – sechs kleine Klavierstücke op. 19
– Pause –
Berg – Sonata, Op. 1
Mumford – two Elliott Carter tributes
I. for Elliott
II. A celebration of Elliott
Ravel – La Valse
(mit Yury Revich) Webern – 4 Stücke op. 7
JAZZ:
21:30
Gershwin Night with Viktor Bori
Ausstellung / Exhibition: by Yuko Ichikawa
Yuko Ichikawa, präsentiert fotografische Werke "Die Koexistenz von Mensch
und Natur / Coexistence of human being and Nature" mit persönlicher Note,
sowie Darstellung zwischen Mensch und Natur.
Inhaltlich arbeitet sie gerne mit Symbolen.
Dieses transparente Foto präsentiert sie auf Leuchtkästen, um die Bilder
durch die Kraft des Lichtes erstrahlen zu lassen.
Sie wünscht sich, dass Mensch und Natur für Zeit und Ewigkeit in einer
friedvollen Ordnung koexistieren.
http://www.yukoichikawa.com/index_e.html